Breanna Stewart
High School
Breanna Stewart was born on August 27, 1994, in Syracuse, New York. She began playing basketball at a young age, and quickly showed that she had a natural talent for the game. As she ascended, Stewart led her high school team to three consecutive state championships, and was named Gatorade National Player of the Year in 2012.
3x New York State Class AA Champion (2010, 2011, 2012)
Gatorade National Player of the Year 2012
McDonald's All-American 2012
WBCA All-American 2012
USA Today All-USA First Team 2012
Naismith Prep Player of the Year 2012
College
Subsequently, Breanna Stewart chose to attend the University of Connecticut, where she continued to dominate on the court. Stewie led the Huskies to four consecutive national championships, and was named the Final Four's Most Outstanding Player each time. She was also a three-time consensus national player of the year.
4x NCAA Champion (2013, 2014, 2015, 2016)
4x Final Four Most Outstanding Player (2013, 2014, 2015, 2016)
3x Associated Press All-American (2013, 2014, 2015)
2x Naismith College Player of the Year (2014, 2015)
2x Wooden Award winner (2014, 2015)
2x Wade Trophy winner (2014, 2015)
2x Honda Sports Award for Basketball winner (2014, 2015)
Professional
Afterwards, Breanna Stewart was drafted by the Seattle Storm with the first overall pick in the 2016 WNBA draft. She has quickly become one of the best players in the league, winning the WNBA MVP award in 2018. Breanna has also led the Storm to two WNBA championships, in 2018 and 2020.2x WNBA Champion (2018, 2020)
2018 WNBA MVP
4x WNBA All-Star (2017, 2018, 2021, 2022)
2018 WNBA All-Star Game MVP
2018 WNBA Finals MVP
2x WNBA scoring leader (2018, 2022)
2x WNBA All-WNBA First Team (2018, 2022)
2x WNBA All-WNBA Second Team (2017, 2021)
2021 WNBA All-Defensive First Team
2018 FIBA World Cup MVP
2020 Olympic gold medalist
2016 Olympic gold medalist
Additionally, Stewart has had a successful overseas basketball career, winning championships in China and Russia. She was also named the EuroLeague Women MVP in 2019. Moreover, she is a key player for the United States women's national basketball team, and she is a two-time Olympic gold medalist.
Teams
2016-2017: Shanghai Baoshan Dahua (WCBA)
2017-2018: Shanghai Baoshan Dahua (WCBA)
2018-2019: Dynamo Kursk (EuroLeague Women)
2020-2021: UMMC Ekaterinburg (EuroLeague Women)
2022-2023: Fenerbahçe Safiport (EuroLeague Women)
Achievements
2016-2017: WCBA Champion
2017-2018: WCBA Champion
2018-2019: EuroLeague Women MVP
2020-2021: EuroLeague Women Champion
Current Status
Currently, Breanna Stewart is one of the most dominant players in the WNBA. She is a four-time WNBA All-Star, a two-time WNBA champion, and a WNBA MVP. Breanna is also a member of the United States women's national basketball team, and has won two Olympic gold medals.
Check out her WNBA stats on Basketball Reference.
Breanna Stewart- 2023 WNBA Season
In the 2023 season, Breanna Stewart delivered a stellar performance for the New York Liberty. She averaged 22.8 points, 9.4 rebounds, and 3.9 assists per game, while shooting 46.5% from the field and 35.7% from three-point range. Stewie earned All-WNBA First Team honors and was an MVP award finalist.
Additionally, Stewie was a dominant two-way force for the Liberty. She ranked among the league's most efficient scorers while also leading the team in rebounds and blocks. Furthermore, Breanna was an excellent playmaker, posting a career-high 3.9 assists per game average.
Ultimately, Stewart's phenomenal play was a major catalyst behind the Liberty's playoff run in 2023. They compiled a 19-13 regular season record before reaching the semifinals.
In summary, Breanna Stewart's superstar level performance propelled the New York Liberty to new heights this past WNBA season.
.Notable Performances
Here are some of Stewart's notable performances in 2023:
scored a season-high 37 points in a win over the Connecticut Sun on June 1.
 had a triple-double with 23 points, 13 rebounds, and 10 assists in a win over the Indiana Fever on July 17.
 dropped 24 points and grabbed 10 rebounds in the Liberty's playoff win over the Chicago Sky on September 1.
WNBA MVP 2023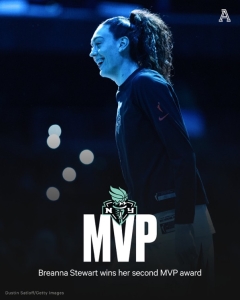 The 2023 WNBA MVP race came down to a tight competition between several of the league's biggest superstars. A'ja Wilson of the Las Vegas Aces, Breanna Stewart of the New York Liberty, and Alyssa Thomas of the Connecticut Sun were the front-runners all season long.
Candidates
A'ja Wilson was seeking her second MVP award after previously winning in 2020 & 2022. She led the Aces to the #1 seed in the playoffs while averaging 19.5 points and 9.4 rebounds per game. Wilson exhibited dominant interior play and much improved passing ability.
While Alyssa Thomas of the Connecticut Sun did not win the MVP award, she firmly inserted herself into the conversation with a breakout season. After missing all of 2021 with an injury, Thomas returned better than ever in 2022.
Additionally, the versatile forward averaged 13.4 points, 8.2 rebounds, and 6.1 assists for the Sun. Thomas' do-it-all impact made Connecticut one of the most balanced teams in the league. Her passing ability from the forward spot unlocked the Sun's offense. Defensively, Thomas took on the toughest matchups game after game. S Thomas finished 2nd in MVP voting.
Stewie
In conclusion, Breanna Stewart made a compelling case by guiding the Liberty to a playoff berth. She put up 22.8 points, 9.4 rebounds and 3.9 assists per game while shooting efficiently from the field. Stewie remained one of the most versatile offensive weapons in the WNBA.