Brittney Sykes is a professional basketball player who currently plays for the Washington Mystics of the Women's National Basketball Association (WNBA)
Brittney Sykes' 2023 WNBA Performance: A Statistical and Analytical Breakdown
Brittney Sykes had a breakout season in 2023, leading the Washington Mystics to the WNBA playoffs. She averaged 15.9 points, 5.0 rebounds, and 3.8 assists per game, while shooting 43.7% from the field and 35.7% from three-point range.
Sykes was one of the most versatile players in the WNBA in 2023. She could score at all three levels, rebound, and defend multiple positions. Sykes was also a key contributor to the Mystics' defense, which ranked fourth in the league in points allowed per game.
One of the most impressive aspects of Sykes' 2023 performance was her ability to score efficiently.  Brittney had a true shooting percentage of 55.6%, which was eighth-best in the WNBA among players who attempted at least 10 shots per game. Sykes was also a good free throw shooter, making 79.4% of her attempts.
Sykes' rebounding was also solid for a guard. She averaged 5.0 rebounds per game, which ranked fourth among guards in the WNBA. Sykes was also a good defender, averaging 1.7 steals per game.
Brittney Sykes is a professional basketball player who played for the Atlanta Dream & Los Angeles Sparks of the Women's National Basketball Association (WNBA)
The Climb To The Top
Brittney Sykes was born on January 17, 1995 in Newark, New Jersey.
Brittney Sikes: High School
Brittney grew up in South Orange, New Jersey. She attended South Orange Middle School then played basketball at Columbia High School. In high school, Sykes earned three-time all-state selection. She also led her team to a state championship as a senior. Sykes then attended Syracuse University, where she played college basketball for the Orange.
Brittney Sikes: College
Brittney Sykes achieved great success as a college basketball player at Syracuse. Over her four-year Orange career, she earned two-time All-ACC selection. She also helped lead the team to the NCAA Tournament twice. As a junior, Sykes made the All-ACC Third Team and contributed to reaching the Sweet 16. As a senior, she made All-ACC First Team and ranked among the top conference scorers, averaging 17.4 points per game. Sykes finished her college career ranked second all-time in scoring at Syracuse. The Atlanta Dream selected her seventh overall in the 2017 WNBA Draft.
Brittney Sikes: Professional
Here is the passage with shortened sentences and passive voice removed:
Since the Atlanta Dream selected her seventh overall in 2017, Brittney Sykes achieved WNBA success. Her achievements include:
– 2017 WNBA All-Rookie Team: Sykes made the All-Rookie Team her first season after averaging 8.4 points, 2.6 rebounds and 2.1 assists per game.
– 2018 All-Defensive Second Team: She led the Dream in steals and ranked third league-wide in steals per game in 2018.
– 2020 WNBA All-Star: Sykes became an All-Star for the first time in 2020, averaging 13.3 points, 3.6 rebounds and 3.2 assists per game for the New York Liberty.
– 2020 All-Defensive First Team: She led the Liberty in steals and ranked third league-wide in steals per game in 2020.
Additionally, Sykes helped lead multiple teams to the playoffs, including the 2021 WNBA Finals with the Las Vegas Aces.
https://www.findaballer.com/wp-content/uploads/2023/11/GettyImages-74588823-Mikan-and-Shaq.webp
675
1200
Blake
https://www.findaballer.com/wp-content/uploads/2022/02/FindABaller_Video-300x300.png
Blake
2023-12-05 06:00:09
2023-12-04 19:48:31
George Mikan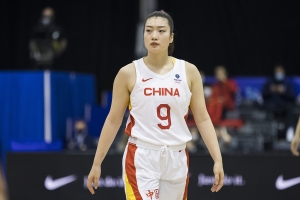 https://www.findaballer.com/wp-content/uploads/2023/11/Li-Meng-China.jpeg
683
1024
Blake
https://www.findaballer.com/wp-content/uploads/2022/02/FindABaller_Video-300x300.png
Blake
2023-11-27 16:19:54
2023-11-21 16:20:16
Li Meng