High School
Yolanda Griffith was born in Chicago, Illinois on March 1, 1970. She attended Carver Military Academy High School, where she was a star basketball player. As a result, Yolanda led her team to the state championship in 1988.
College
Additionally, Yolanda Griffith had a stellar college student-athlete experience at Florida Atlantic University. She played for the Owls for one season, in 1992-93, but made an immediate impact. YG led the team in scoring (28.2 points per game) and rebounding (16.0 rebounds per game), and was named the NCAA Division II Player of the Year. She also helped the Owls to a 20-8 record and their fourth regional appearance.
Moreover, YG's success on the court was matched by her success in the classroom. She was a member of the Phi Theta Kappa honor society, and graduated with a degree in social science.
Yolanda Achievements
Subsequently, Griffith's college experience at Florida Atlantic University helped her to become the successful professional basketball player that she is today. She is a role model for young women everywhere, and her story is an inspiration to all who follow her.
Here are some additional details about Yolanda Griffith's college student-athlete experience at Florida Atlantic University:
She was an All-American.
She was named the FAU Female Athlete of the Year in 1993.
She was inducted into the FAU Athletics Hall of Fame in 2006.
She is a member of the Naismith Memorial Basketball Hall of Fame.
Griffith's college student-athlete experience was a positive one that helped her to develop into a successful professional basketball player.
Professional
Yolanda Griffith was drafted by the Sacramento Monarchs with the second overall pick in the 1999 WNBA Draft. However, she quickly became one of the league's best players, earning WNBA MVP honors in 1999. Yolanda also won two WNBA championships with the Monarchs in 2005 and 2006.
Griffith was a seven-time WNBA All-Star, and was named to the WNBA All-Defensive First Team four times. She also played for the United States national team, winning gold medals at the 2000 and 2004 Olympic Games.
Current Status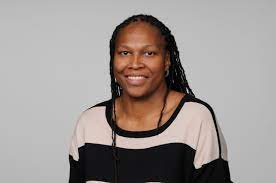 In 2008, Griffith retired from the WNBA. She is currently a women's basketball coach at Boston College.  Griffith is a true basketball legend. She was a dominant player at every level of the game, and she helped to pave the way for future generations of female athletes. YG is an inspiration to all who know her, and she will be remembered as one of the greatest women's basketball players of all time.